Although incredibly beautiful, taking care of blonde and bleached hair is a strenuous and time consuming task. The natural elements around us can make your hair look brassy and yellow and over styling your hair with flat irons and blow-dryers can leave your hair dry, brittle, and give you split-ends!
Do not worry! The SEVMYLOOK team is here to aid you in how to properly maintain your blonde hair and look like you just stepped out of the salon always!
Hydrate
In order to achieve the perfect blonde we put our hair through many bleaching and lifting chemical processes. Although necessary these processes strip our hair from the natural oils and breaks the cuticle of the hair strand leaving you with brittle, stretchy hair filled with split-ends.
Aside from drinking a lot of water, investing in a quality leave-in conditioner and a deep repair mask is key.
Keep in mind that these repair masks will not revitalize your hair in one use but be persistent with them and your hair will thank you.
Our favorite is: Truss Blond Mask

Protect It 
As tempting as it might seem, back away from the heat styling tools we love so much! Give your hair a break and let it breathe so it can restore itself and have its natural shine once again.
However, if you are addicted to heat styling like most of us, make sure you protect your beautiful locks with a good heat protectant spray and deep condition your hair once a week.
Keep Away From the Sun 
As sad as this sounds, the overexposure to the sun can damage both your hair and skin! The harsh UV rays dry out your hair and turn it brassy and orange. If you want to have fun in the sun make sure you bring a hat and a UV and Heat protectant!
Give this one a try!
Keune Care Line Sun Sublime Oil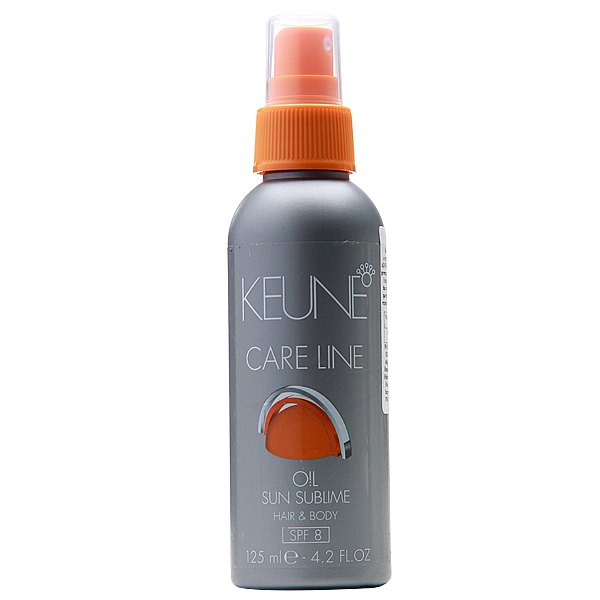 Making it Last
No matter how try we hard, the tone of our beautiful blonde locks will fade and become brassy. To make your color last through your next salon appointment investing in a Purple Shampoo is key. Purple is the direct opposite of yellow on the color wheel meaning, that when the purple pigments in the shampoo comes into contact with your hair the warm yellow tones will be cancelled out. Purple shampoo is formulated to combat the brassy tones that your hair gets from everyday exposure and bring out the ash tone we all love. We recommend using purple shampoo at least once a week.
This is our favorite: Truss Blond Shampoo & Conditioner

Follow these tips and it will help restore the natural shine of your hair and keep it looking fresh out of the salon!